Welcome to the new term news and updates….
A very warm welcome to the new term to you all, and for our new joiners, a very warm welcome to Dodleston Pre- school.
I am very excited to write to you all as the new manager at Dodleston Pre-school. I was kindly introduced at the end of term newsletter to you all, but I would like to add to that now I have undertaken my new role. I apologise in advance for the long newsletter 😊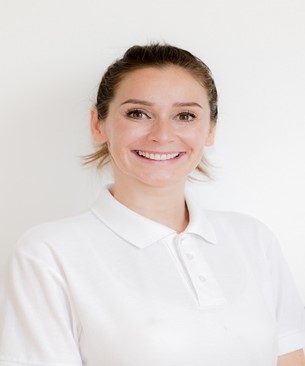 A Warm hello to you all, 
My name is Jo and I am delighted to be joining Dodleston Pre-school this coming academic year as pre-school Manager. 
A little bit about me 😊 Originally from Liverpool and after living in the UAE for 15 years I returned to the UK and to Chester 18 months ago with my family, my husband David, our 2 sons Theodore 7 and Benjamin 5 and our 2 dogs booboo and bellaboo. Throughout my time in the UAE, I operated roles within both Nursery and pre school for 11 years. Within this time I operated every role within the early years environment, from room leader for babies through to Early years teacher, as a practitioner, SENCO, EAL teacher, curriculum co-ordinator, manager and nursery director. I hold a level 3 Pre school practice, a level 4 Nursery management and a level 5 SENCO qualifications, as well as being a qualified Early Years assessor. Since being back in Chester I have been pre school readiness leader at an outstanding setting within the city. I am very passionate about education and Early Years, and being with children is definitely my happy place. I am a lover of the outdoors, gardening, running and long walks in the rain particularly. I am always smiling and always excited about what is going to come next. I am humble and kind and love meeting new people.
I sincerely hope that you have all had a wonderful summer and I know from the time I have spent with the purple ladies during the holidays that they are very excited to re open our doors and welcome the children into the pre-school. I feel the need to add here that during our team training days after a sharing of our thoughts and wishes for the children attending the setting our deputy Heather provided us with a wonderful quote and that I would like to share,  "we would wish for our children to be those who foster valuable relationships and who are resilient, curious, autonomous and independent learners. We recognise each child as a capable unique individual with their own starting points, culture, learning styles and interests"
Speaking of the purple ladies: I will let them introduce themselves, Here they are
Jude : Dodleston Pre School Business Manager
Hi, I'm Jude – although most of us will never have met, I'm the one who keeps sending all those annoying emails asking for forms and/or money! My role at Dodleston is to ensure the smooth running of the office so that the wonderful ladies in the room can concentrate on ensuring your children are having fun, without having to worry about whether funding forms are all present and correct. My role now is admin based but I actually started out (many years ago) as a childcare practitioner (L3 Childcare & Education and D32/33 Assessor), then pre-school manager, before having children of my own and doing my part on their pre- school committee, so over the years I have worn all hats! So, as much as I may seem to be always emailing to ask about sessions and forms or fees and funding, it is a necessary part of the bigger picture to help make Dodleston Pre-school a unique, fun, stimulating environment, where the children can thrive and reach their individual potential.
Heather: Deputy Manager Dodleston Pre school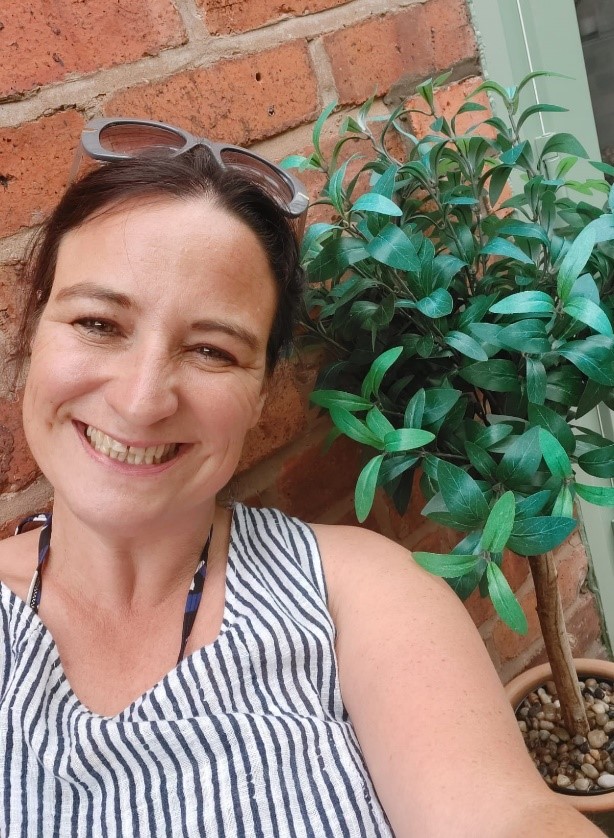 Hello – I might need a new photo in the Winter months!  I know a good many of you through Preschool already, and I'm looking forward to meeting those of you who are yet to arrive.  I have been involved with Preschool, for roughly 12 years, long enough for me to feel that it has become a part of me, and I am passionate about all that we have to offer in our wonderful setting and surrounding village.  My own children (now 18, 15 and 10) have all been through Preschool and have many happy memories of their times in the village hall and they still have friends who they made here.
I have the Level 3 Early Years Educator qualification, Early Years Teacher Status, PGCert in Early Years Practice, and I'm just about to start my dissertation year for an MA in Early Childhood at Chester University.  My main interest is play!  I am a firm believer in the power of play on children's learning and am particularly passionate about child led play.  Where we provide rich opportunities for children to be curious, to explore, to follow their own interests, to wonder at their discoveries, and where adults know how and when to interact because they are in tune with each child – that's when the learning magic happens, and that is the very best part of my role.  Away from Preschool I love to walk our dogs Dolly and Gracie, and visit our elderly pony Breeze, mud seems to be quite a feature in my life and those amongst you who are 'old hands' will be aware of the wonderful muddy experiences that we love to create at Preschool too.
I'm looking forward to seeing all of you!
Natalie: Acting Deputy Manager Dodleston Pre school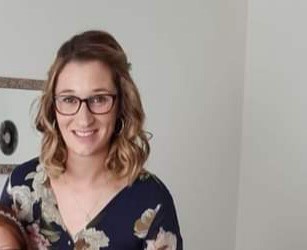 Hello everyone, my name is Natalie and I have worked in the early years sector for 15 years and have been with Dodleston Pre- school since April 2019. I have Level 3 Childcare learning and development and a level 3 in play work. This year  I am hoping to study my level 5 Early Years Lead Practitioner. Early years is something I am passionate about. Being there to support children, making them feel safe and ensuring they have a fabulous and fun time when they are at the setting. Most of all being there for the children when they need support to be able to achieve what they want and celebrating those achievements. There is nothing better than seeing the children run into the setting with big smiles on their faces. I love being outdoors and that is how I spend most of my time with my family, my 2 children, my partner and my dog. I also love going to the gym. I really look forward to seeing you all soon.
We have been very busy discussing the new academic year and planning for our reopening and are excited to share some news with you.
Dodleston library van will be visiting us at the setting! Hooray. In our quest to develop a love for books our deputy manager Heather has taken time to organise pre- school a library card. The village library van will be visiting us (roughly) every 3 weeks- dates to be confirmed. We are very excited to give the children the opportunity to make their own choices about what stories they would like to introduce and read within the setting.
Our morning snack:  Every morning children will be offered a fresh fruit and cut vegetables snack for morning snack. We will also offer alongside this, either toast, rice cakes, crumpets and breadsticks. We will always offer fresh water and fresh milk on a daily basis too.
Confirmation of term dates – Re-opening Wednesday 1st September.
DODLESTON PRE-SCHOOL TERM DATES
September 2021 – July 2022
TERM: Autumn
Open
Close

Wednesday 1st September

Wednesday 20th October

Monday 1st November

Friday 17th December
TERM: Spring
Open
Close

Wednesday 5th January 2022

Wednesday 16th February

Monday 28th February

Friday 1st April
TERM: Summer
Open
Close

Tuesday 19th April

Friday 27th May

Pre-School will be closed Monday 2nd May for the Bank Holiday.

Monday 6th June

Friday 22nd July

Pre-school will be closed Friday 24th June as a training day.
There may be a further Bank Holiday to celebrate the Platinum Jubilee, but this is still to be confirmed.
We are hoping that covid-19 does not disrupt the settings opening this year and with this we would like to remind you to please remain vigilant and ask that you kindly do not bring your child to the setting if they are feeling unwell or have any fever and/ or cough. We will still be wearing masks to meet and greet and to say good bye and request that parents do please drop children at the door. We will be there waiting to collect the children. If anybody you have made contact with does test positive for covid please do inform us as soon as possible. It is very important that we refer to our contingency plan and prevent any possible cross infection. We will be working extremely hard to keep the pre school open, to keep the pre school clean and sanitised and to wash our hands frequently. We do thank you in advance for your understanding and co-operation.
May I please take this time to remind all: Children should bring a water bottle , a change (or if you can spare a few changes) of clothes, sun cream and sun hat, a pair of wellies and a splash suit please, as well as their own packed lunch.
We would ask that other than a comforter if necessary and the above list children do not bring any other items from home, including their own toys please.
We do adopt a healthy eating policy both in our practice and at Dodleston Pre-school meal times Some ideas of example packed lunch options are attached. If you are struggling with ideas, please do let us know and we can support you with this.
We all have a love for natural resources in Early years provision. We love to recycle at the setting and are developing our loose parts provision. We would be delighted to work in partnership with our families and would be thrilled if you would like to contribute to our collection of resources. Please find below some of the things we would love to receive if you happen to come across them. Toilet roll tubes and kitchen roll and tin foil tubes. Cardboard boxes of any shape and size. Cardboard egg cartons and tin cans (I take the label off my  baked beans cans and pop them in the dishwasher) Pine cones, shells and old tree trunk, cable reels and wooden pallets, funnels and pipes, dvd's, cd's and beads, sticks, air dried lemon, wooden spoons and bottle corks.
I have attached some images for you to see how these resources can come to life within an early years setting.
We will communicate with yourselves using tapestry. If you do not have an account by the end of the first week with us, please do inform myself or one of the purple ladies so that we can get that setup for you and you do not miss any important updates regarding your child or the pre-school.  https://tapestryjournal.com/ In addition if you have any problems using tapestry please let us know and we will support you with this https://eyfs.info/forums/topic/46927-full-contents-page/
I will be telephoning you all before the first day back to introduce myself, I do hope to catch you. I look forward to talking to you and also to meeting you all very soon.
Sincerely, Jo Brown  & the Purple Ladies
Dodleston Pre-School, Dodleston Village Hall, Dodleston, Chester, CH4 9NT
Registered Charity No: 1035994